2003 Hale'iwa Arts Festival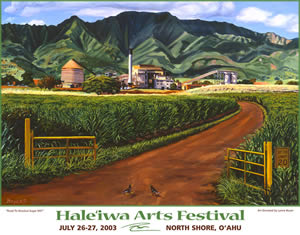 Festival Poster Artist Lynne Boyer's
"Road to Waialua Sugar Mill"
The Hale'iwa Arts Festival Art Committee has selected Lynne Boyer as poster artist for its Sixth Annual Summer Event.
"Road to Waialua Sugar Mill" by Lynne Boyer is the latest in our series of collectible fine arts posters. Her oil painting was selected from forty-two works of art submitted for consideration.
For Lynne, painting is both fun and fulfilling. As a long-time islander, her mastery of realism radiates through her work and captures the "mana" (spirit/mood) of her subject, expressing the beauty, serenity and power of our beautiful Hawaiian landscapes and seascapes.
Lynne was born in Allentown, Pennsylvania and moved to Hawaii as a young child. Although her talent in art showed early in life, her aptitude in sports lead her into the world of professional surfing, earning her two consecutive World Championship Titles in 1978 and 1979. However, her interest in drawing and painting never ceased and she is now established as a successful artist. Her preferred medium is oil on canvas but she also "dabbles" in watercolors and acrylics.
Her list of clients extends from Hawaii to the mainland, Alaska, Canada, Puerto Rico, Hungary, China, Australia and Japan. Her original paintings and reproductions of selected works are shown at various galleries throughout the Hawaiian Islands.
"Road to Waialua Sugar Mill", the use of which Lynne has generously donated, is reproduced on Festival posters and shirts for the Hale'iwa Arts Festival Sixth Annual Summer Artfest.
Lynne joins with previous poster artists, Rebecca Gates, Wyland, Margo Goodwill and Mark N. Brown in donating the use of their art to assist the Hale'iwa Arts Festival in promoting its events and continuing fine arts programs on the North Shore.
Limited edition posters by all five artists are available at the "Cool Stuff to Buy" tent.
Visit Lynne online: www.lynneboyer.com